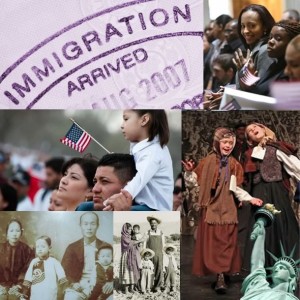 Members of In Good Company have had over 15 years of experience in working with children in performance settings. All members enjoy working with children and sharing the music and traditions that they grew up with, as well as those from other cultures.
The Golden Door is set in an Armenian grocery store in a transitional Boston neighborhood. Ani, the third-generation Armenian-American owner, runs the failing store with her Italian-American husband, Marco. One day, unexpected events bring immigrants from Mexico, China, the Caribbean along with descendants of immigrants from Eastern Europe and Ireland into the store. As the customers struggle to honor their heritage while trying to fit in as Americans, they change not only the way they see each other, but also the future of the store.
A signature feature of IGC's school programs is incorporating students from the school into the cast. IGC provides music to the music teacher, who selects the participating children and teaches them songs they will perform in The Golden Door (notes and music are available here). Members of IGC visit the school before the performance date and works with the students on singing games that go with their songs. On the day of the show, students rehearse with the full IGC cast before the program, then perform in front of their classmates. At the end of the morning, participating students receive a certificate commemorating their experience and a cast picture.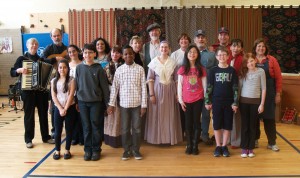 Available Friday mornings during the school year
Fee: $1,000 plus $100 for travel expenses. Includes music from the show, a new Learning Guide for "The Golden Door", a preparatory visit from IGC members, a rehearsal with the IGC cast, a 40-minute performance, and a five-minute Q & A session.
To book a performance of The Golden Door at your school during the 2017-2018 or 2018-2019 school years, or for further information, fill out this form or contact In Good Company by e-mail at booking@ingoodcompanytheater.org or call 781-412-4642.
---
The Golden Door was written to address topics of immigration within the Massachusetts elementary social studies curriculum, specifically "to help students understand that American citizenship embraces all kinds of people, regardless of race…..and national origin."
(Massachusetts Curriculum Framework for Social Studies, 2003)