Five years ago, a group of performers banded together to create In Good Company, a name we borrowed from a line in the much-loved traditional Irish song, The Parting Glass. From there, a unique performing organization was created with the goals of finding local and national stories historical in nature, setting them to music and script, and presenting them in New England communities.
In Good Company performs original works by local playwrights and composers who weave traditional, period, and new music into theatrical storytelling, using the power of the arts to make connections and increase the understanding of history, which is the human experience.
In Good Company prides itself on being able to perform in a variety of venues – we have performed at the Harvard Club, in houses of worship, the Kennedy Library, Faneuil Hall, the blackbox theatre at Chelsea TheatreWorks, assisted and independent living facilities throughout eastern Massachusetts, among others. We enjoy bringing our shows to the communities around us. We also produce versions of our shows for elementary school audiences.
In Good Company is turning 5 this year! In honor of this milestone, we are excited to present The Golden Door and None But the Best, the two signature shows that launched our beginning. Both shows are set in Boston, but with a century of time in between them. You'll be surprised at how connected we are to both of these stories.
Please join us as we celebrate 5 years – as an audience member; as a sponsor; as an auditioned member of our company.  More information can be found within the pages of our website. Please explore and be In Good Company with us.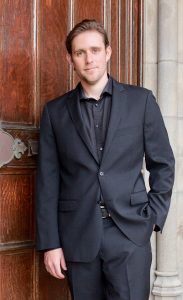 Daniel P. Ryan is an active conductor and singer in the Boston area. In addition to being In Good Company's Artistic Director, he is currently the Director of Choral Activities at Clark University, Conductor with the Boston City Singers and associate conductor with VOICES BOSTON. He recently served as artistic director of Sine Nomine Choral Ensemble, leading the group in several programs that received rave reviews.
He has recently music directed and conducted productions of the opera Utopia Limited at MIT for MITG&SP and the musicals The Wild Party (Lippa) and The Last Five Years at The Boston Conservatory. He currently holds professional singing posts at First Church Boston and Trinity Parish of Newton Center. He recently served as assistant conductor for Julian Wachner in Maytooth, Ireland for Haydn's Creation with Berkshire Choral International and currently serves on the faculty at Interlochen Summer Arts Academy as a music director.
Previous to relocating to Boston, Daniel taught for four years on the faculty of North Iredell High School in Olin, NC as the full time choral director where he dramatically increased the high school choral program. During his tenure Ryan's choirs often earned superior rankings and toured regionally and nationally. Ryan was nominated for teacher of the year in 2012.
As a composer Ryan has written several small works for choir. Additionally, Ryan has a passion for musical theatre and earned a commission for a musical based on immigration and refugees stories in 2016. Now completed, Out of Many premiered in May of 2017 at Chelsea Theatreworks. In 2012, Ryan wrote the music and lyrics for the original musical The Millennium Problem and won best music and lyrics award during its second run for the North Carolina Theatre Conference (NCTC) competition in 2013.
Within the community, Ryan has worked with numerous choruses, professional, community and academic and in 2010 founded Statesville Children's choir. As a music director he has most recently worked for Interlochen, Merrimack Repertory Theatre, Piedmont Players and Theatre Statesville. As a music director of Grease he was nominated for best musical direction by the Metrolina Theatre Association in 2012. During this time in North Carolina, Ryan also held a position of conductor and music director at Providence United Methodist Church in Statesville, where he conducted the church choir and premiered original choral compositions.
Daniel holds a Master of Music degree in Conducting from The Boston Conservatory where he studied with maestri Dr. Bill Cutter and Dr. George Case. Daniel received his Bachelor of Arts degree in music education and vocal performance from Catawba College where he studied conducting with Paul E. Oakley and voice with Dr. Scott Macleod. Ryan's notable other conducting teachers and mentors include Andrew Altenbach, Dr. Beth Willer, and Brian O'Connell.