A new musical about presidential campaigns and the songs that roused a nation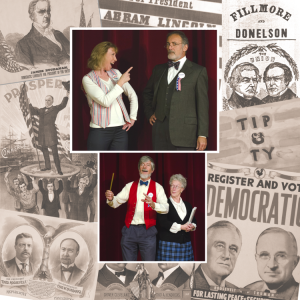 It's election season, and an esteemed college professor is presenting a lecture about Presidential campaign songs. Suddenly, his talk is interrupted by a competing lecturer and her aides, who are determined to not only tell American history through music, but to sing it! With that challenge issued, the class breaks out into song, lively debate, and musical competitions armed with Presidential music from the era of George Washington to JFK. "Hail to the Chief" is a delightful exploration of political campaigns and the songs that defined them, including those by well-known composers such as Stephen Foster ("The White House Chair"), Al Jolson (Harding, You're the Man for Us"), and Irving Berlin ("I Like Ike"). It's also a welcome escape from the "other" debates leading up to election day.
Performances are made possible with the support of the Massachusetts Cultural Council (www.massculturalcouncil.org).
"In Good Company recently gave a rousing, fun-filled performance of The White House Chair: Presidential Campaign Songs that Changed America. Our audience was actively engaged as the group entertained them with song and presidential wisdom from some of America's most notable leaders. The ensemble's enthusiasm is contagious…" –E.M., Newton Free Library
Photos by Anna Miller
Support provided by the Massachusetts Cultural Council